2021 Volkswagen ID.4 Pro First Edition Review – Volkswagen's First Global EV
The ID.4 must be really good to compete with rival BEV crossovers that are extremely talented.
Volkswagen may have launched the ID.3 as its first all-electric vehicle designed from the ground up to be electric. However, since the ID.3 is only for the European market, it is not as important to the German automaker as the larger ID.4 crossover (basically a taller, redesigned version of the same base vehicle).
Driving the ID.4 for a whole week, I got to know it quite well and came out of the experience quite impressed. It does all the Volkswagen stuff very well, like the fitment and quality of the materials in the interior, the ergonomics, the practicality and the space. It's not the most exciting thing to drive or look at from the outside, but it's still a pretty futuristic design and certainly less boring to look at than other modern VWs.
On the road it feels very planted and secure and although it is a rear-wheel drive vehicle, the fact that you can't disable traction and stability control means that you can't really feel the rear end coming out if you step on it. out of a corner. This is at odds with one of its main rivals, the Ford Mustang Mach-E, which allows you to play more and invites you to drive in a sportier way.
One of the ID.4's biggest problems was supposed to be its faulty infotainment which has been criticized by almost every reviewer who has tested the car. However, in my experience, aside from the occasional little inconvenience when swiping through menus, I didn't find any issues with it. In fact, I would even say that it is quite good, very easy to use and one of the best systems of its type that I have tried.
In the photos the ID.4 looked a bit odd, from a proportions point of view, but once you see it on the metal, it's really cool. Its proportions are still unconventional, and it definitely has a futuristic feel to it, but it's not a bad looking vehicle; it's certainly more interesting to look at than most of today's Volkswagens.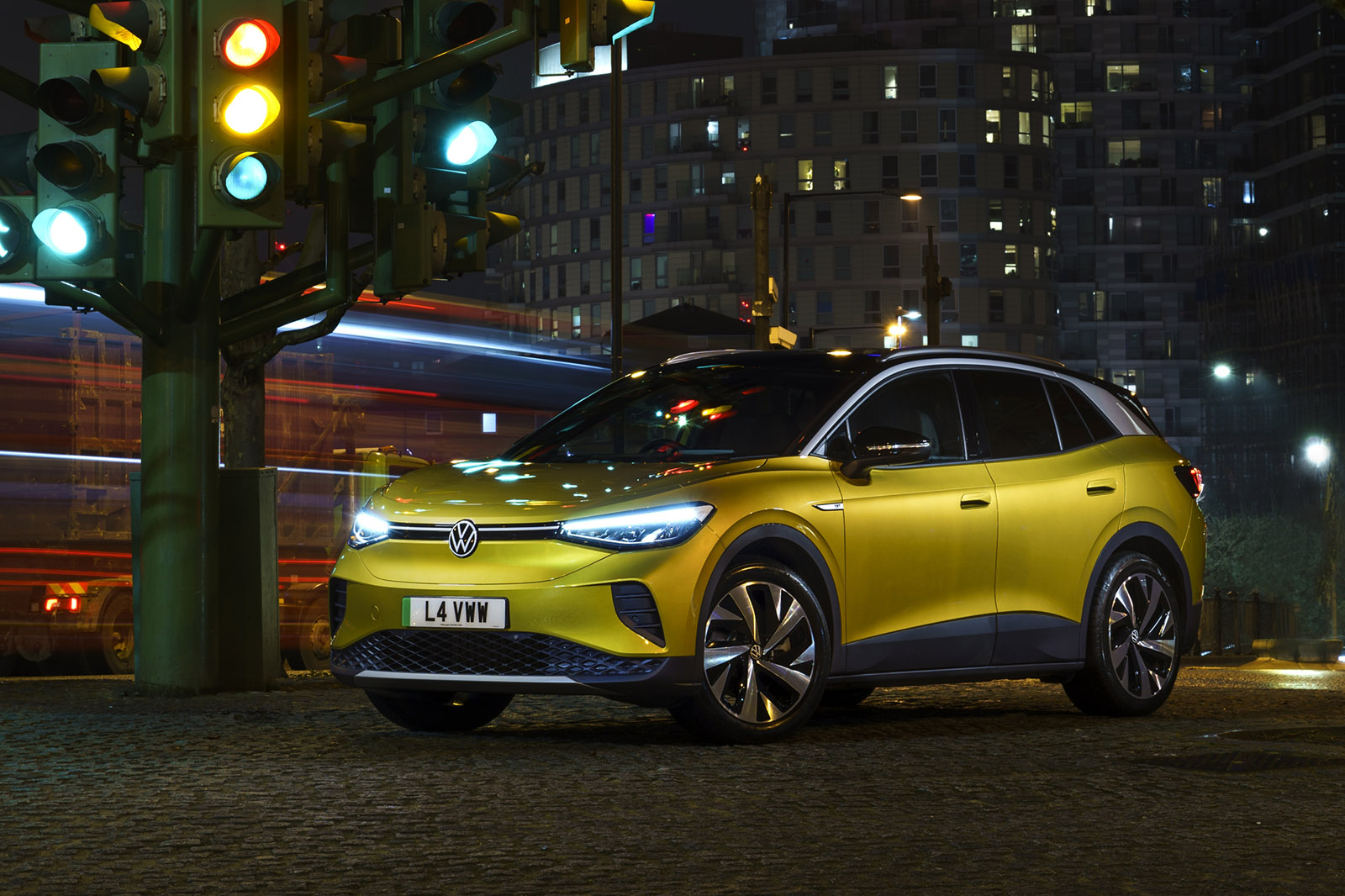 The front fascia isn't very flashy and VW opted not to give it a full-width light bar up front. There is a white line connecting the daytime running lights to both headlights (and from some angles it may appear to have LEDs), but only the rear end has a full lightbar. The car travels on staggered wheels (wider at the rear) and does not sit especially high off the ground; It has 21 cm / 8.2 inches of ground clearance, but it doesn't seem like a particularly tall vehicle.
Inside, it certainly looks different compared to other Volkswagens, at least from a design point of view, because the high-quality materials and robust construction are trademarks of the manufacturer. You get a small smartphone-sized digital controller display and a 10-inch screen or optionally a 12-inch screen for infotainment. Wireless Android Auto and Apple CarPlay come standard on all models.
The interior is still not what you would call exciting, but traditional VW buyers will appreciate the minimalist, toned down look. What you may not like are the controls for the lights and defrost (which are now attached to a new touch-sensitive panel), or the window and mirror switches that are a bit awkward to use (see video review to see exactly what I'm talking about).
On the road, the ID.4 impresses with its smoothness, refined cabin and excellent sound insulation. It feels just as well insulated inside the ID.4 as it does in the best EVs I've ever driven, some cost a lot more than that. Throw it into a corner too fast and even though it's rear-wheel drive, there is no drama going on and it just sticks to the asphalt in a very undramatic way.
This feeling of firmness is definitely welcome, especially considering my tester didn't have all-wheel drive, but it also makes the car a bit boring to drive. If you want a very sporty electric crossover feel, then the Ford Mustang Mach-E will be best for you, or if you want the fastest of such vehicles, just get a Tesla Model S.
Probably the most impressive part of driving the ID.4 is its maneuverability. It has a turning radius of 10.2 meters / 33.5 feet, making it extremely easy to go through tight and twisted spaces. You actually have to adjust to it for a few miles after you first drive the ID.4, but then it really starts to blow it up and saves you from having to make two or three point turns.
On the technology front, it must be said that the ID.4 is not a leader in its class. You will eventually receive over-the-air updates, an augmented reality head-up display, and other cutting-edge features (they weren't available in Romania, where I'm based, at the time I shot this review, which was in early May), but in this Right now it's just an electric Volkswagen crossover, a battery-powered alternative to the Tiguan. It is a well thought out and rounded vehicle, but it has no advantage over any rivals in any way, so even if it is quite good objectively it is not extraordinary.
If you're reading this from America (which you probably are), it's worth noting that Volkswagen sells the ID.4 in America cheaper than it should be (and you may not make money selling it at that price) .
[1-click-image-ranker]